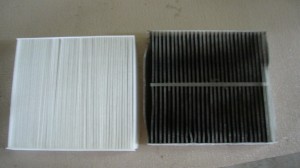 Unlike older cars with their cable slides and mechanical switches for heat and AC, modern cars tend to have climate control.  This translates into better fuel economy, better air flow and comfort control.  The trade off for improved performance is the complexity of the systems.
For example, did you know that some high end vehicles can have as many as 4 cabin filters? Dirty filters can add stress to the blower systems and cause unneeded repairs.
Here at Precision Autowerks we use our state of the art diagnostic equipment and extensive knowledge to accurately diagnose and repair climate control systems.   If you feel your climate control is not functioning properly by all means, come see us.