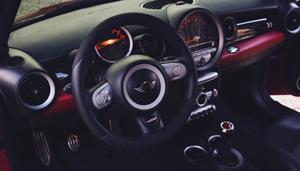 As a Mini owner you already know you have a fun, quirky car that can be a blast to drive and own.
What you might not know is how simple and cost effective it can be to own it.
At Precision Autowerks in Raleigh NC we strive to provide both an economical and effective service, repair and maintenance program for Mini Coopers. Using our top of the line, factory level diagnostic tools and service information we offer a full range of Mini Cooper service and repair, including (but certainly are not limited to):
Oil service
Mileage based maintenance
CBS service  (condition based service)
Brake repair
Electrical diagnosis and repair
CEL diagnosis and repair
Suspension
Exhaust
Time based service such as brake fluid flushes and coolant changes
Performance upgrades for brakes, engine performance and suspension
Wheel and tire upgrades
Take advantage of tuning options so that your Mini can be unique and tailored to fit your style and desires. Go ahead – let's make a fun car even more fun and personalized by taking 'Lets Motor' to a personal level.
At Precision Autowerks you will find a friendly, laid back staff who want to make your experience as pleasant as we know car repair and maintenance can be.  We are driven to provide the best possible service at a reasonable cost using top shelf replacement parts installed by competent technicians who are gear heads at heart. It's more than a job, it is part of the lifestyle.
Become part of the family.  Come see us.  Fire us an email at info@precisionautowerks.com or feel free to use our online appointment system.   We always welcome new faces and love to make a stranger a customer.
And remember – things like out 27 point inspection and brake checks are always complimentary. Interested in a second opinion? Feel free to take advantage of that offer. Even if you choose not to have us make the repair, we won't hold that against you.